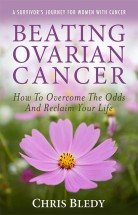 Have You Been Diagnosed With Ovarian Cancer? Now, Here's How to Beat It!
A diagnosis of ovarian cancer does not have to be a death sentence. Recent advances in medicine have made this once incurable disease treatable and manageable. You can beat advanced, and even recurring, ovarian cancer. Simple but significant lifestyle changes can produce big results when it comes to healing.
New!  Kindle version available! http://amzn.to/1blZRwz
"Don't let statistics determine your fate.

You are not a number!" ~ Chris Bledy

Read this book and learn how to:
•Recreate your body after surgery and chemotherapy
•Shift your focus from surviving to thriving
•Conduct a one-day lifestyle inventory
•Implement small changes that create big results
•Use gratitude and love to accelerate and enhance your healing
•Achieve complete healing of your body, mind and spirit

Read this article by Peter Starr