OVARIAN CANCER COALITION
OF GREATER CALIFORNIA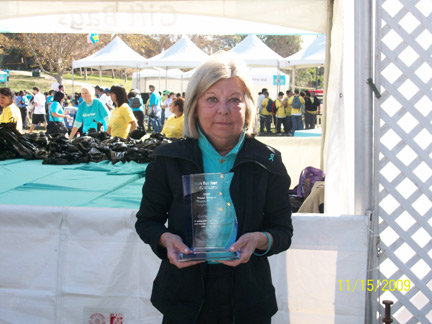 Almost all my volunteer work is done through OCC (the Ovarian Cancer Coalition of Greater California). I love this organization and all the incredible people who part of it.
Getting involved with volunteer work is extremely rewarding. As an ovarian cancer survivor, I knew I wanted to find a way to give back and to help raise awareness. OCC proved to be a perfect fit for me. Here's how I learned about this amazing group.
At the 36th Annual Cancer Convention, someone came up to me and handed me a flyer for the 10th Annual Walk/Run for Awareness and Hope to Benefit Ovarian Cancer. It was only two weeks away and it was in Studio City. I could hardly believe there was a walk/run for ovarian cancer and that it had been going on for 10 years – right here in the valley where I live! I was stunned that I had never heard of it. I went home and registered immediately.
I called my son and asked him if he would be interested in going with me. My book had just been published (only weeks earlier). I had an idea for my first give back. I would participate in the shortest walk offered at the event. I assumed most of the women who were in the throes of ovarian cancer would do the short walk. I was right. There were plenty of them too.
My son Heath, carried a backpack full of my books, "Beating Ovarian Cancer". As we walked I spoke with women who were battling ovarian cancer and other women who were survivors: each received a book.
One survivor, Lori Lieberman, was a volunteer for OCC. It was through her that I eventually met Gayle and became actively involved with this amazing organization.
Because of OCC, I am able to work many events throughout the year benefiting ovarian cancer. When I have speaking engagements, it's OCC that provides me with valuable information pamphlets and brochures as handouts for these events. These handouts are vital in educating women. So often, participants take extras for friends and family members not in attendance.
I am truly grateful to be part of this organization. OCC not only enables me to give back to the ovarian cancer community, but keeps me current on developments taking place in the medical community. We learn about clinical trials, ovarian cancer studies, new drugs and therapies and the progress being made on developing an early detection test for ovarian cancer.
The Ovarian Cancer Coalition of Greater California is made up of non-paid Board members and volunteers. We sponsor health fairs, lectures, and newspaper, radio and television broadcasts to increase public awareness about ovarian cancer. The annual walk/run raises funds for research, education, and the promotion of early detection and prevention of ovarian cancer.
Our goal is to educate the general public as well as the medical community of the signs and symptoms of this disease, and to support research to help find an early detection method and a successful treatment.
For more information about OCC, the walk/run, donations, volunteering and other events, go to… www.ovariancancercalifornia.com
Thanks for your support! Chris Bledy